Video: Biopolymer Helps Patient Crawl After Spinal Chord Injury
The patient was previously paralyzed from the waist down but is now able to walk with an aid
Video Sources – Fox10 News by Ty Brennan, YouTube 
The 25-year-old biker Jordan Fallis suffered an acute spinal cord injury after a dirt bike accident in October, 2014. Fallis received a biopolymer implant in November, 2014 at the Barrow Neurological Institute in Arizona. The implant is a neural-spinal scaffold developed by InVivo Therapeutics that acts as a bridge across the injured portion of the spinal cord in order to heal it.A technical description of the product can be found here on the company website.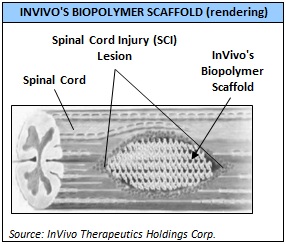 According to the InVivo Therapeutics website, the Neuro-Spinal Scaffold is composed of 2 biocompatible and bioresorbable polymers:
PLGA [Poly(lactic-co-glycolic acid)] is a polymer that is widely used in resorbable sutures. PLGA provides the biocompatible support for the Neuro-Spinal Scaffold.
Poly-L-Lysine [PLL] — the second component of the scaffold—is a positively-charged polymer commonly used to coat surfaces in order to promote cellular attachment.
These 2 polymers are cast to form a highly porous scaffold that is conducive to cellular attachment and neurite outgrowth.
Fox10 News in Phoenix, AZ interviewed Fallis just after the scaffold was implanted by Dr. Nicholas Theodore. The surgery had never been done before. A series of videos from Jordan's recovery is on this YouTube Playlist and chronicles milestones from crawling on hands and knees to walking upright with an aid. Doctors believe he will regain the use of his legs. In December 2014, the FDA gave the go-ahead for InVivo Therapeutics to accelerate enrollment in clinical trials.
As many as 20,000 people suffer spinal cord injuries annually in the U.S. (CDC estimate) and some 250,000-500,000 people globally (WHO estimate).
Photo: Wikimedia (Bee Smith/Ocean/Corbis)